Welcome to
Imprint
2023, our 15th annual high school print competition and exhibition!
This online exhibition represents a juried selection of works submitted by high school students from across
Berks, Bucks, Chester, Delaware, Lehigh, Montgomery, and Philadelphia Counties. 
The Imprint program encourages new generations of young artists in the medium of relief printmaking. For this year's Imprint exhibition we introduced the theme of 'Storytelling.' Esherick's printmaking practice was grounded in storytelling, from the block-printed illustrations that helped tell the stories of other writers to prints centering his own life, family, and friends.
When Wharton Esherick was a young artist, woodcut printmaking was a critical medium in his artistic development. Through printmaking, Esherick transitioned from a young painter to an internationally recognized artist and furniture designer. You can see Esherick's prints in our collection and in the collections of other institutions, including the Philadelphia Museum of Art. To see a new print from the Esherick Museum's collection every week, follow us on Instagram and Facebook  each "Woodcut Wednesday."
Recognizing the pivotal role that printmaking played in Esherick's life, we are delighted to once again highlight young artists who represent the future of this powerful medium, with Imprint. We were once again astounded by the skill and creativity of the submissions and send a huge thank you to all the art teachers and students who shared their work with us!
Bella Meltzer
The Lunchroom
Abington Senior High School
"This piece tells of the story of my fear of eating in front of others. The lunchroom is often a scary place for many middle and high school students. There was always a constant feeling of judgement, leading me to find myself hiding behind my lunchbox every time I sat down to eat. Even with my friends I felt unsafe, as though they would point their hands and start laughing. While growing older I have accepted this fear and learned to live around it and persevere through the anxiety."
Sarah Lyles, Breaking the Cycle
Abington Senior High School
"An ouroboros is a symbol in alchemy used to dictate "eternal suffering" through the imagery of a reptile consuming itself for sustenance. The use of daggers for clock hands convey a violent break in the cycle, but freeing nonetheless. The hands being posed at no time in particular conveys the message that healing doesn't have a specific time, and varies, but given time will break."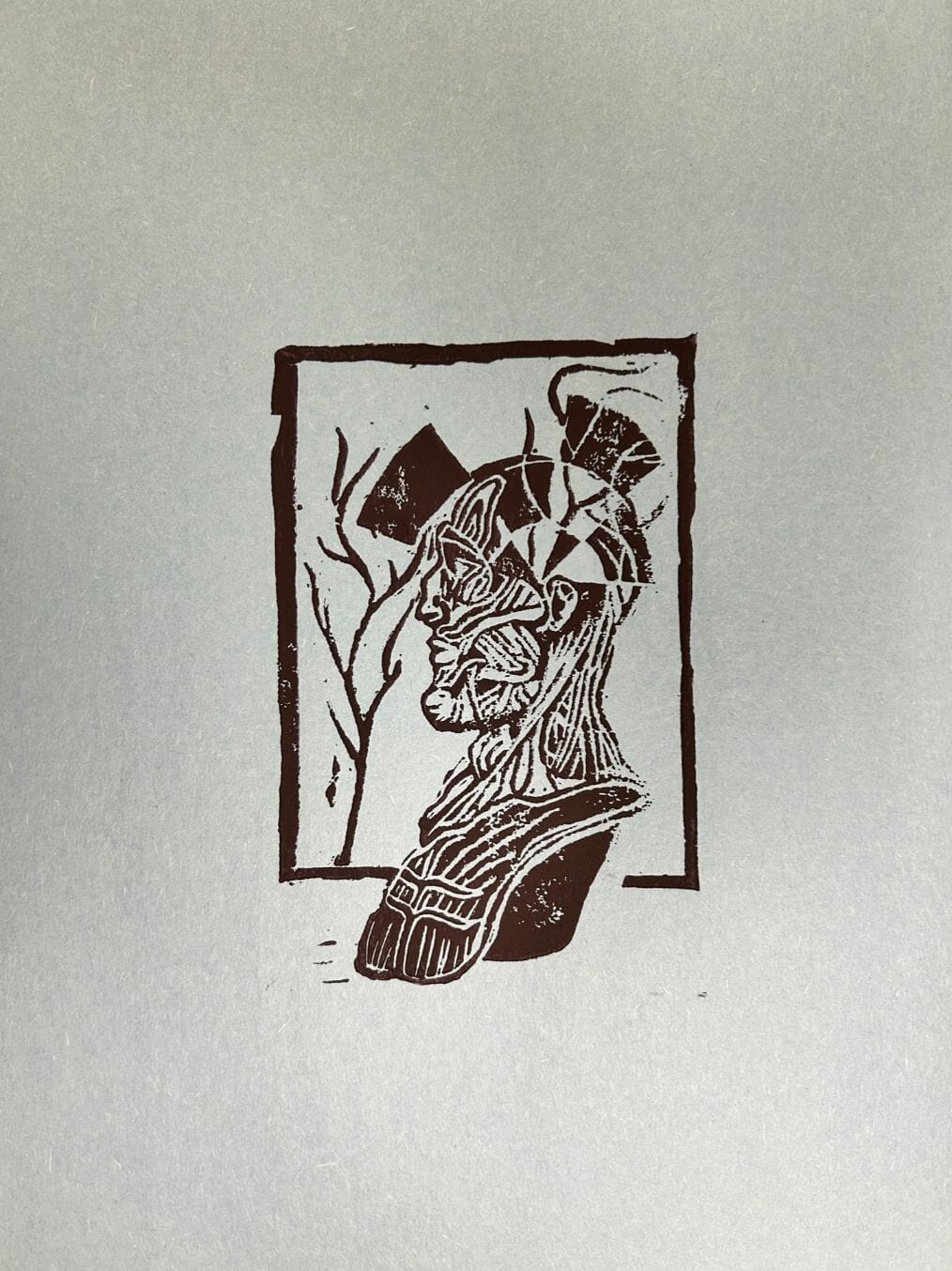 McKayla Winkler, In Thinking
Philadelphia Academy Charter High School
Liv Phelan, Bovine Musician
Neshaminy High School
Gianni Ramirez, Biscotti
Neshaminy High School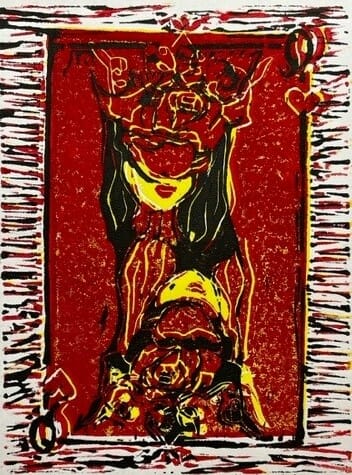 Laura Urrea-Garcia, Red Queen
Neshaminy High School
Kelly Johnson, Reflections in Space
Delaware County Christian School
Lorelei Jacobson, Leopold
Villa Maria Academy High School
Ava Hisey, The Kraken
Villa Maria Academy High School
Stella Righetti, Kick in the Teeth
Villa Maria Academy High School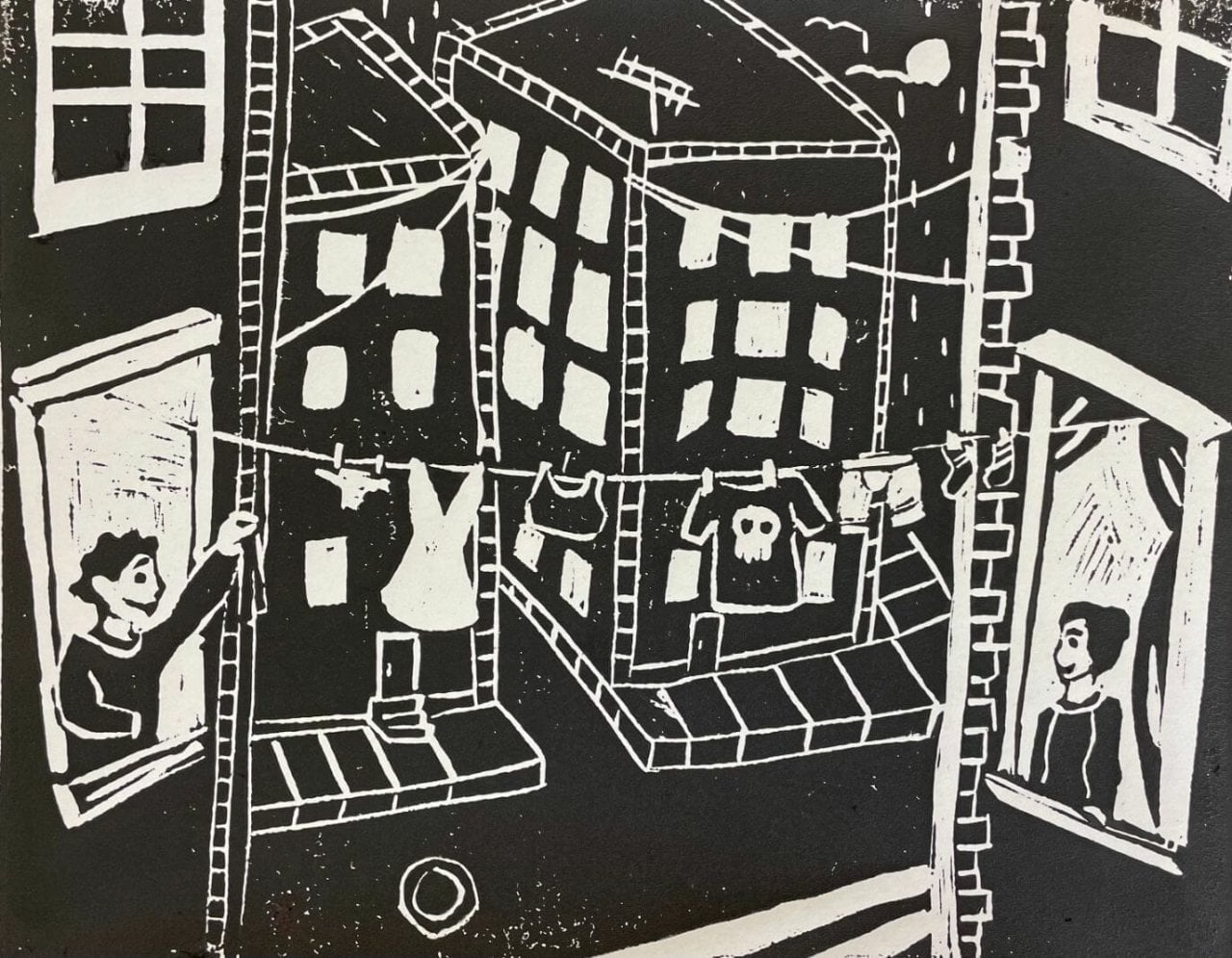 Grace Conroy, On the Line
Villa Maria Academy High School
Natalie Bowman, Permalink Termination
Twin Valley High School
Eddie Clinton, Full Moon
Twin Valley High School
Emmalynn Holland, Untold Stories
Downingtown STEM Academy
Lauren Goldman, The Harlem Dancer Claude McKay
Twin Valley High School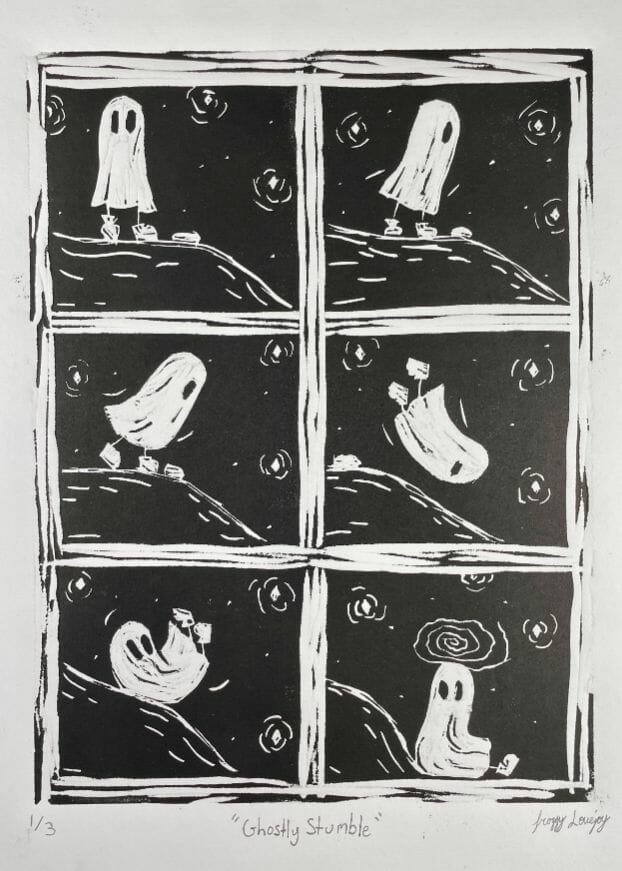 Froggy Lovejoy, Ghostly Stumble
Twin Valley High School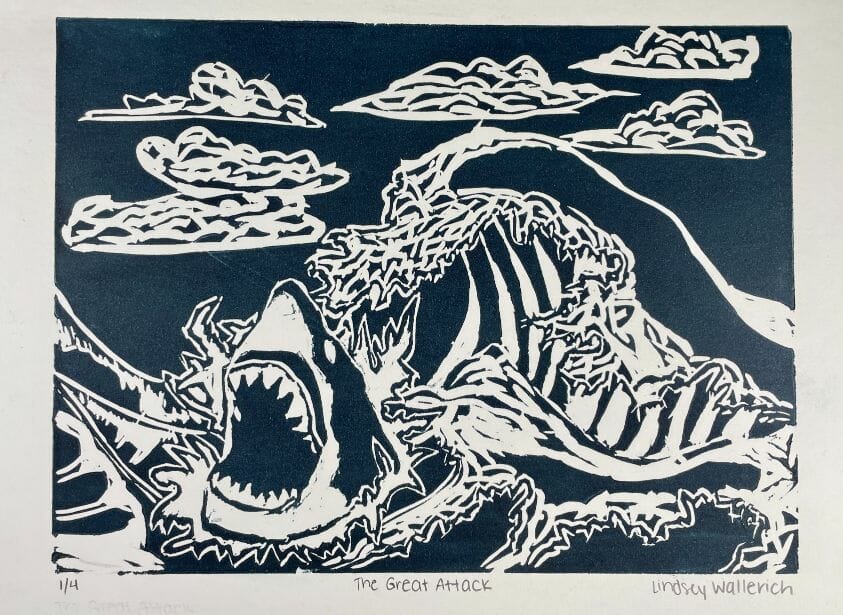 Lindsey Wallerich, The Great Attack
Twin Valley High School
Michael Haak, Here I am
Twin Valley High School
Katie Rimby, Garden Song
Twin Valley High School
Caroline Lowes, Paitence
Twin Valley High School
Neven Zurcher, Lost at Sea
Coatesville Area High School
Norah Swartz, Tree in Time
Springfield Township High School
Montana Wright, Path of Hope
Springfield Township High School
Christina (Cami) Merrigan, The Rain Caught Me
Springfield Township High School
Julia Giannattasio, Caged
Abington High School
Josephine Ali, Instinct of Fear
Abington High School
Anastasiia Khorkava, Morning Journey
Abington High School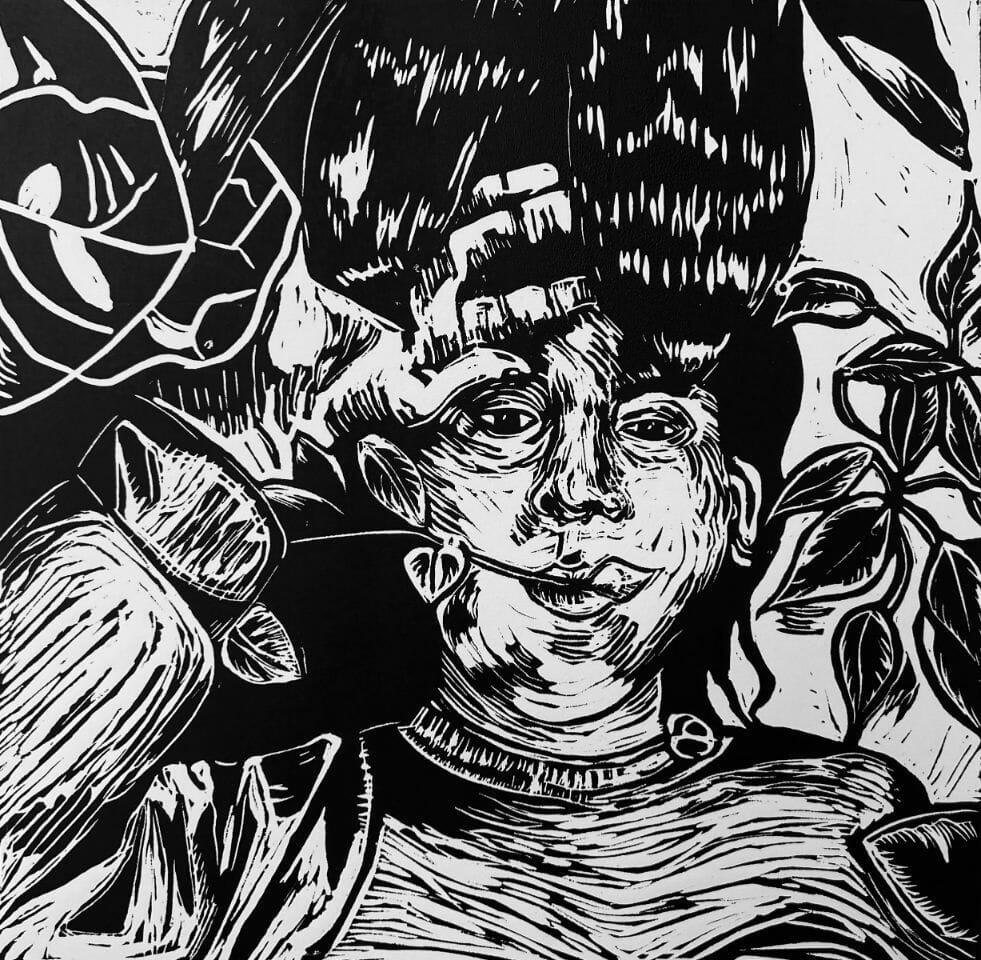 Lily Punzo, Embedded in Nature
Abington Senior High School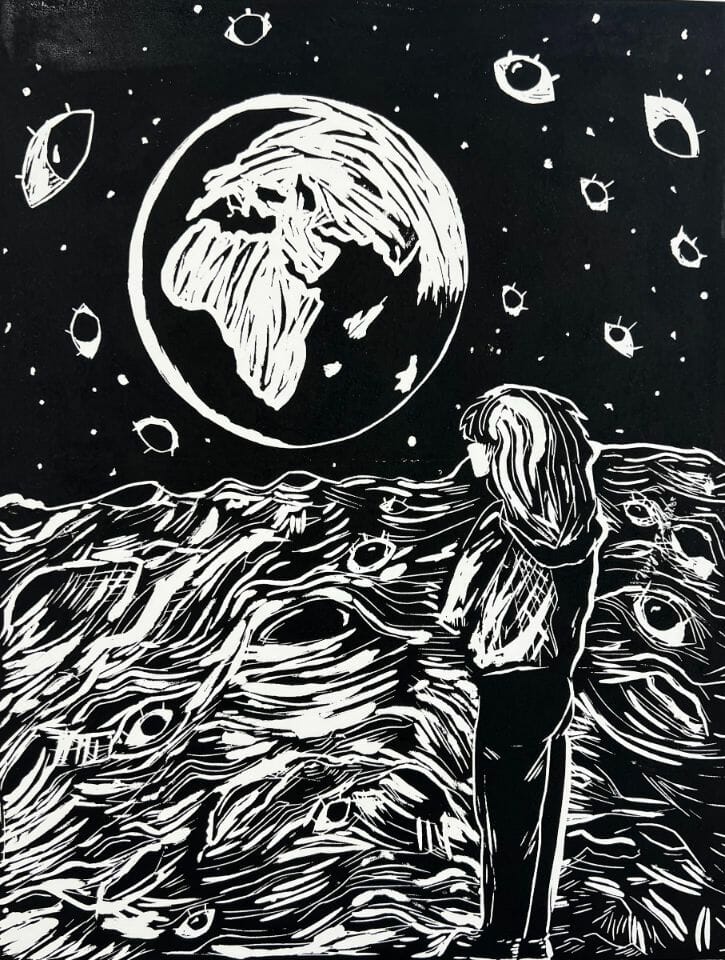 Lori Hasa, Everyone Is Watching
Abington Senior High School
Sara Layson, Fading Away
Abington Senior High School
Zadrian Morris, Escape
Abington Senior High School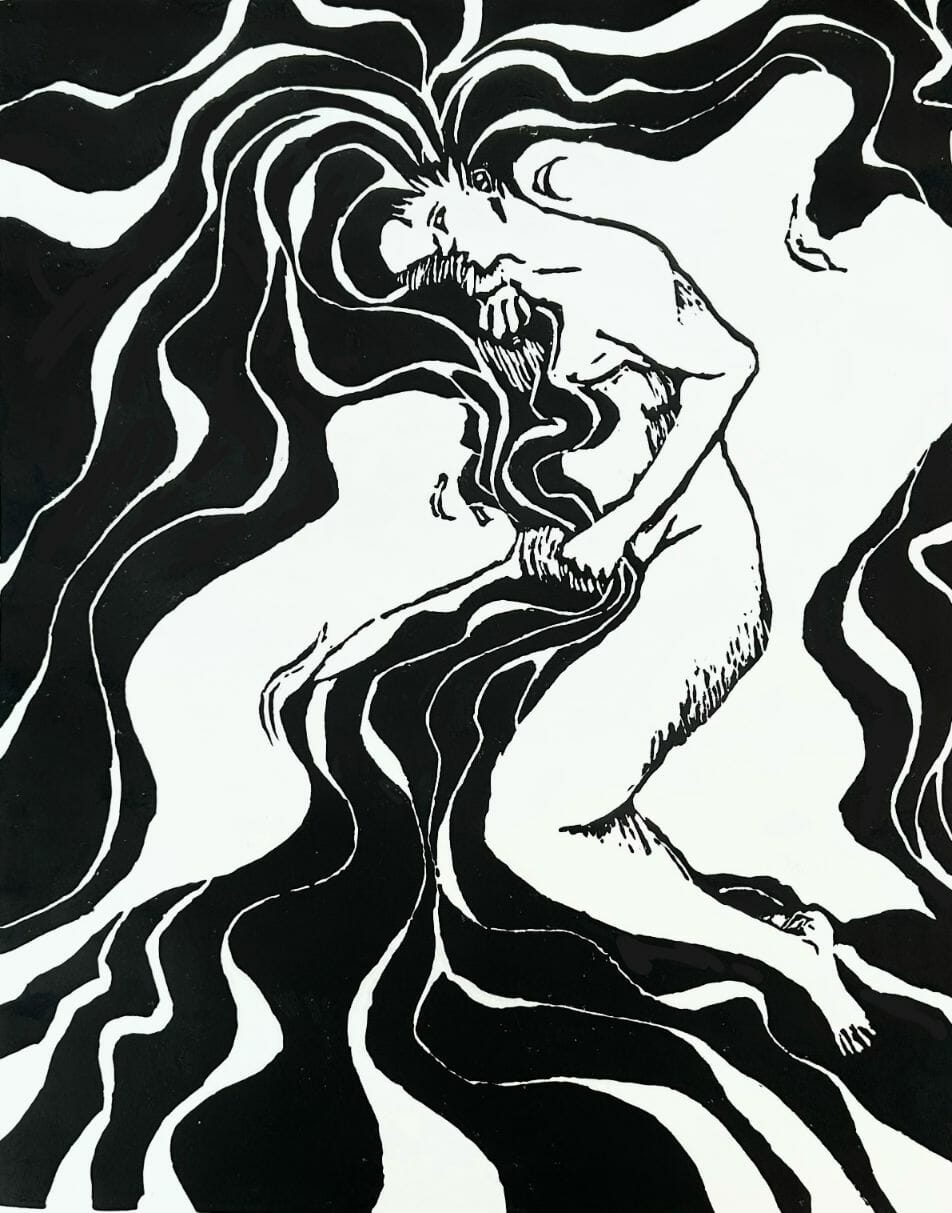 S. Tucci, Strangle the Shadows
Avon Grove High School
Layne Cofiell, Untitled
Great Valley High School
Rosemarie White, Mary
Great Valley High School
Song Min, Bedtime Stories
Great Valley High School
Our Guest Juror : Lindsay Sparagana
We are grateful to have had Lindsay Sparagana as a guest juror for this year's Imprint competition. Lindsay has been the Artists-in-Schools Program Coordinator at The Print Center in Philadelphia since September 2017. She earned a BFA in photography from the University of the Arts (UArts) and an M.Ed with Community Art Certificate from Tyler School of Art, Temple University. Sparagana has worked collaboratively in many diverse communities locally, and as far away as Costa Rica, Nicaragua and Mexico, to facilitate art making. She is currently a Senior Lecturer and Co-Director of NEUArts: both at UArts. Sparagana is also a community artist and photographer. Her personal work has been exhibited nationally and internationally.
Looking to bring printmaking into your classroom?
Check out our Making an Imprint Unit Plan for high school students.
Take your students through the full five-lesson unit, covering history, criticism, and practice, or simply pick and choose those activities that best suit your needs!
We also created a companion plan, Fellow Citizen: Digital Citizenship and the Printmaker, to help guide students through the ins and outs of copyright law, ethics, and fair use in the digital landscape.