Through exhibitions, programs and partnerships we strive to be an active community resource, connecting contemporary audiences to Esherick's brilliant creations and the beauty of the everyday.
One Object, Many Stories: Esherick's Music Stand
March 2, 2023 – May 14, 2023
Each object in the collection of the Wharton Esherick Museum – from major pieces of sculpture and furniture to the unassuming ephemera hidden in drawers and cabinets – holds within it myriad stories. One Object, Many Stories offers a deep dive into one of Esherick's most well known sculptural furniture forms: the music stand.
Esherick created the music stand for Rose Rubinson who, along with her husband Nathan (Nat), was one of Esherick's most significant patrons in the 1950s and 1960s. Their friendship is just one of the narratives explored in One Object, Many Stories. Others include Esherick's stylistic language and context; how Rose Rubinson's music stand became the impetus for new designs for Esherick; and the music stand's inclusion in several exhibitions that would help to define Esherick's career and legacy.
WEM is fortunate to have the prototype music stand made for Rose Rubinson on view in our Visitor Center through the generosity of Geoffrey Berwind, grandson of Nat and Rose and a member of the Museum's Board of Directors. We are not only thrilled to have the opportunity to share this wonderful work with our visitors, but also to honor the continued involvement of the Rubinson/Berwind Family in preserving and celebrating Esherick's legacy since the museum's founding in 1972.
Single Music Stand
, 1960, Cherry, walnut, 44 x 18.25 x 20, from the Collection of the Wharton Esherick Museum, based on the prototype created for the Rubinsons. Photo by Eoin O'Neill.
Wharton Esherick Museum 50th Anniversary Exhibitions
In 2022, we were excited to celebrate WEM's founding, as well as the experiences of the thousands of visitors over the years who, through their time in the Studio, have found themselves while also discovering Esherick's legacy, vision, and continued relevance. Throughout the year, a series of exhibitions and programs explored the idea of "home" in order to celebrate WEM's 50 year history and to think creatively about the next fifty years – and beyond. 
Explore our anniversary year exhibitions below and view our past programs page for recorded events.
Home as Site (March 3, 2022 – May 15, 2022) was the first installation of our Home as… Series celebrating the museum's 50th anniversary year. WEM's campus was home to Esherick in more ways than one. It was the literal home where Esherick's life unfolded through a myriad of changes in his family and identity. It was also Esherick's artistic home, a home to his truest expression of self and the site where he created the vast majority of his work. Esherick considered his Studio an autobiography in three dimensions. Home as Site explores the physical nature and architecture of the WEM campus, including what gives the site its power and how it came to be.
Home as Self (June 2, 2022 – August 28, 2022) was the 28th Annual Juried Woodworking Exhibition at the Wharton Esherick Museum. It began in 1994 as an opportunity to encourage new, creative, and imaginative works in wood. Encouraged to think like Esherick, over the years professional woodworkers, artists, designers, hobbyists, and craftspeople have submitted hundreds of pieces reflecting each year's theme. For the 28th year of the exhibition, WEM invited applicants to share innovative works of art, craft, and design to represent a self-portrait. Each submission had to include wood in some way, but could take a different approach to what it means to make a self-portrait, just as Esherick's "self-portraits" took on many diverse forms.
Home as Stage (September 15, 2022 – December 30, 2022) was the final installment in this series. It asked visitors to consider Esherick's home and Studio not only as the set on which the artist's ambitions played out, but also as a stage that hosted players – often other artists – whose conversation, collaboration, and connection made Esherick's life that much richer and more profound. To honor that legacy and create new opportunities, WEM invited four Philadelphia-based contemporary artists – Emily Carris-Duncan, Kay Healy, Colin Pezzano, and Stacey Lee Webber – to use the space as a stage for their own creative practices exploring the world of objects through skilled engagement with wood, metal, and fiber.
Imprint 2022
Imprint 2022 is our 14th annual high school print competition and exhibition. The Imprint program encourages new generations of young artists in the medium of relief printmaking. As we celebrate the 50th anniversary of the Wharton Esherick Museum this year, we are reflecting on the importance of home and the many different ways Esherick incorporated it into his life's work. For this year's Imprint exhibition we introduced the theme of 'Visions of Home'. We asked that students interpret the meaning of home through their own print submissions. This year's show is entirely virtual.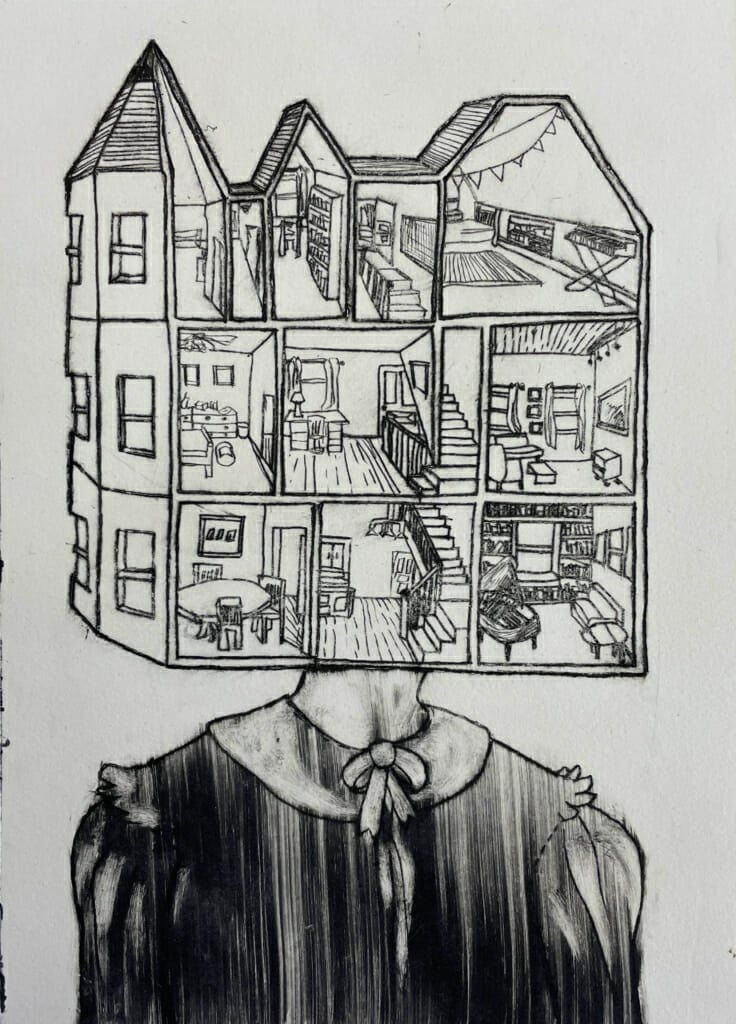 Center for Creative Works Residency
In April of 2018, the Wharton Esherick Museum launched a new partnership with the Center for Creative Works, an art studio focusing on developing creative workplace potential and cultural identity for people with intellectual disabilities. During the residency, a dedicated group of artists from CCW are on site weekly to draw inspiration from Esherick's work through observation, sketching, model-making and discussion. With guidance from furniture makers and woodworking instructors the resident CCW artists refine their designs and techniques at the CCW woodshop and facilities in Wynnewood.
Philly Touch Tours
With support from the National Endowment for the Arts and other generous funders, the Wharton Esherick Museum has engaged Philly Touch Tours to design, develop and host accessible touch experiences for people with vision loss. Philly Touch Tours LLC, founded in 2015, provides accessibility consulting and touch tour program design for museums and cultural institutions and Disability Awareness and Sensitivity Training for museum and cultural institution staff. Philly Touch Tours will, in collaboration with the Museum, design and facilitate touch tours, provide training for Museum staff and volunteers on leading tours for individuals with vision loss and produce Braille and large print materials. The program aims to inspire curiosity and facilitate a meaningful experience for people with vision loss, while disseminating information about The Wharton Esherick Museum's history, its collection and its active engagement with the public.
CraftNOW
Launched in 2014, CraftNOW Philadelphia unites the leading institutions and artists of Philadelphia's craft community in a celebration of the city's rich legacy of craft, its internationally-recognized contemporary craft scene, and its important role as an incubator for arts based in wood, clay, fiber, metal and glass. Through both creating and spotlighting events during the week of the Philadelphia Museum of Art Craft Show, CraftNOW invites locals and visitors alike to explore Philadelphia's innovations in the world of the handmade.
The Wharton Esherick Museum is a proud member of the consortium of individuals, galleries, museums, universities, retailers, and civic organizations who participate in CraftNOW each November. For details on CraftNOW events visit our event calendar.