Through exhibitions, programs and partnerships we strive to be an active community resource, connecting contemporary audiences to Esherick's brilliant creations and the beauty of the everyday.
Martha McDonald: The Wood is Singing in Color
September 14, 2023 – December 30, 2023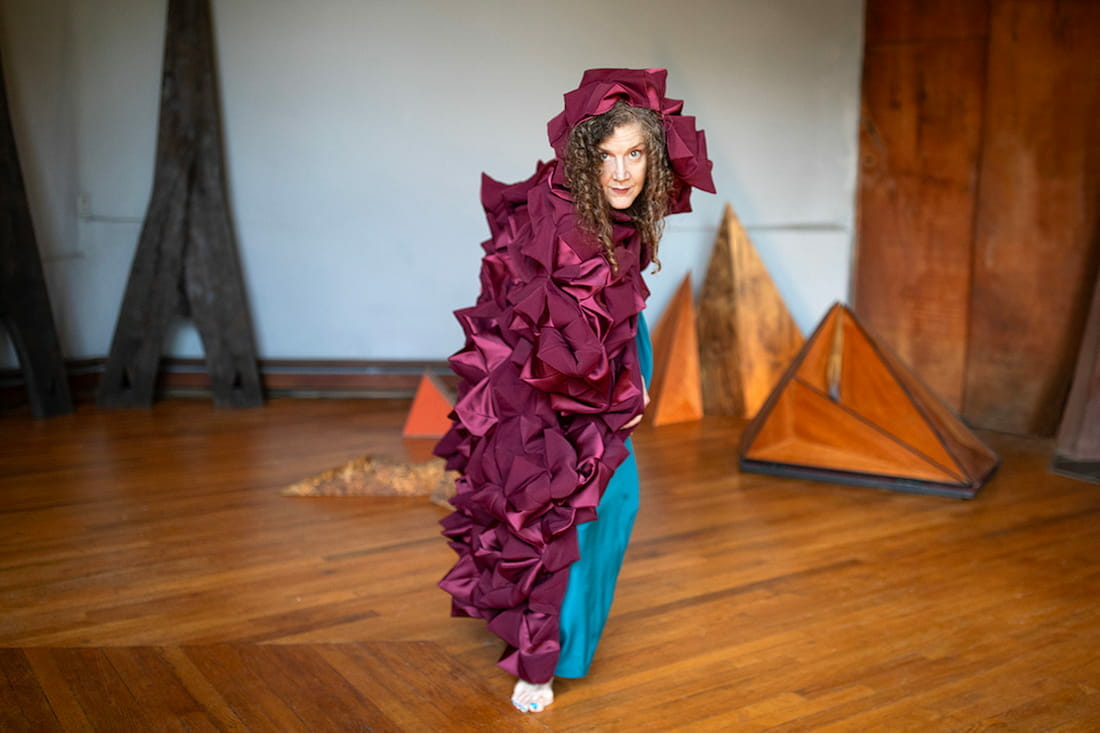 Artist Martha McDonald in Esherick's 1956 Workshop. Photography by Brooke Sietinsons.
This fall, WEM's 2023 Artist-in-Residence Martha McDonald will stage a new live performance, The Wood is Singing in Color, based on her deep research into the museum's collections and archives. Over the past eight months, McDonald has brought her singular interdisciplinary approach, which creatively responds to collections and histories, to our site. The Wood is Singing in Color marks the first time WEM's Artist-in-Residence program has culminated in a live performance. The piece will be staged eight times over a series of two weekends in the 1956 Workshop designed by Esherick, Louis I. Kahn, and Anne Tyng. 
In this immersive performance, McDonald activates handmade costumes and set elements through movement, music, and song, reframing our understanding of Esherick, his creative legacy, and his influences in the 1920s and 1930s. McDonald draws specifically on Esherick's prismatic furniture, Expressionistic stage sets for the Hedgerow Theatre, interest in Anthroposophy, experience with rhythmic dance, and personal writing, transforming the artist's notes to himself into song lyrics for a newly composed musical score. The Wood is Singing in Color was developed in collaboration with musicians Brooke Sietinsons and Miriam Goldberg, fashion designer Dana Meyer, and woodworkers Casey Chew. Additional elements were commissioned from woodworker Larissa Huff. 
For over two decades, Martha McDonald has devised site-specific, performance-based interventions for museums, botanical gardens, and historic sites. She has developed works for Black Mountain College Museum + Arts Center, Smithsonian National Portrait Gallery, the John Michael Kohler Arts Center, Craft Victoria (Melbourne, Australia), RAIR (Recycled Artists in Residence), The Museum of American Glass at WheatonArts, The Woodlands cemetery, and The Rosenbach Museum & Library. McDonald lives and works in Philadelphia. 
The Wood is Singing in Color will be performed on select dates this September and November. An accompanying installation exploring McDonald's residency research and a costume made for the performance will be shown in WEM's Visitor Center beginning September 14th.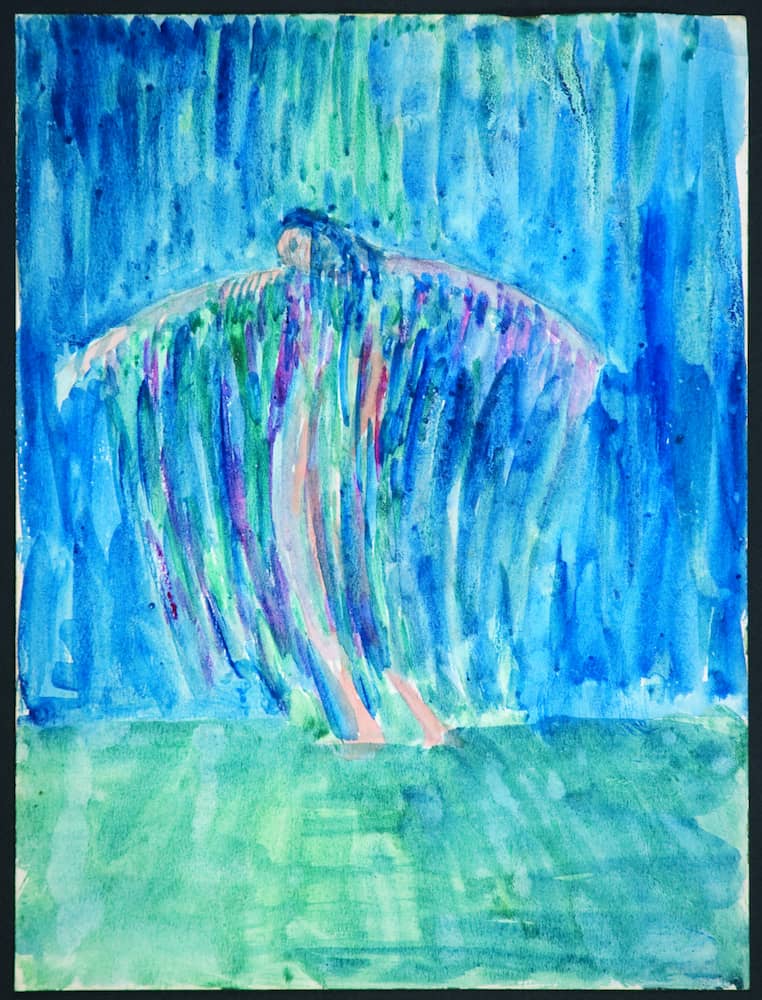 Painting of Dancer by Wharton Esherick
Watercolor, early 1920s
Imprint: Storytelling in Prints
Imprint 2023 is our 15th annual high school print competition and exhibition! This online exhibition represents a juried selection of works submitted by high school students from across Berks, Bucks, Chester, Delaware, Lehigh, Montgomery, and Philadelphia Counties.
The Imprint program encourages new generations of young artists in the medium of relief printmaking. For this year's Imprint exhibition we introduced the theme of 'Storytelling.' Esherick's printmaking practice was grounded in storytelling, from the block-printed illustrations that helped tell the stories of other writers to prints centering his own life, family, and friends.
Recognizing the pivotal role that printmaking played in Esherick's life, we are delighted to once again highlight young artists who represent the future of this powerful medium, with Imprint. We were once again astounded by the skill and creativity of the submissions and send a huge thank you to all the art teachers and students who shared their work with us!
Center for Creative Works Residency
In April of 2018, the Wharton Esherick Museum launched a new partnership with the Center for Creative Works, an art studio focusing on developing creative workplace potential and cultural identity for people with intellectual disabilities. During the residency, a dedicated group of artists from CCW are on site weekly to draw inspiration from Esherick's work through observation, sketching, model-making and discussion. With guidance from furniture makers and woodworking instructors the resident CCW artists refine their designs and techniques at the CCW woodshop and facilities in Wynnewood.
Philly Touch Tours
With support from the National Endowment for the Arts and other generous funders, the Wharton Esherick Museum has engaged Philly Touch Tours to design, develop and host accessible touch experiences for people with vision loss. Philly Touch Tours LLC, founded in 2015, provides accessibility consulting and touch tour program design for museums and cultural institutions and Disability Awareness and Sensitivity Training for museum and cultural institution staff. Philly Touch Tours will, in collaboration with the Museum, design and facilitate touch tours, provide training for Museum staff and volunteers on leading tours for individuals with vision loss and produce Braille and large print materials. The program aims to inspire curiosity and facilitate a meaningful experience for people with vision loss, while disseminating information about The Wharton Esherick Museum's history, its collection and its active engagement with the public.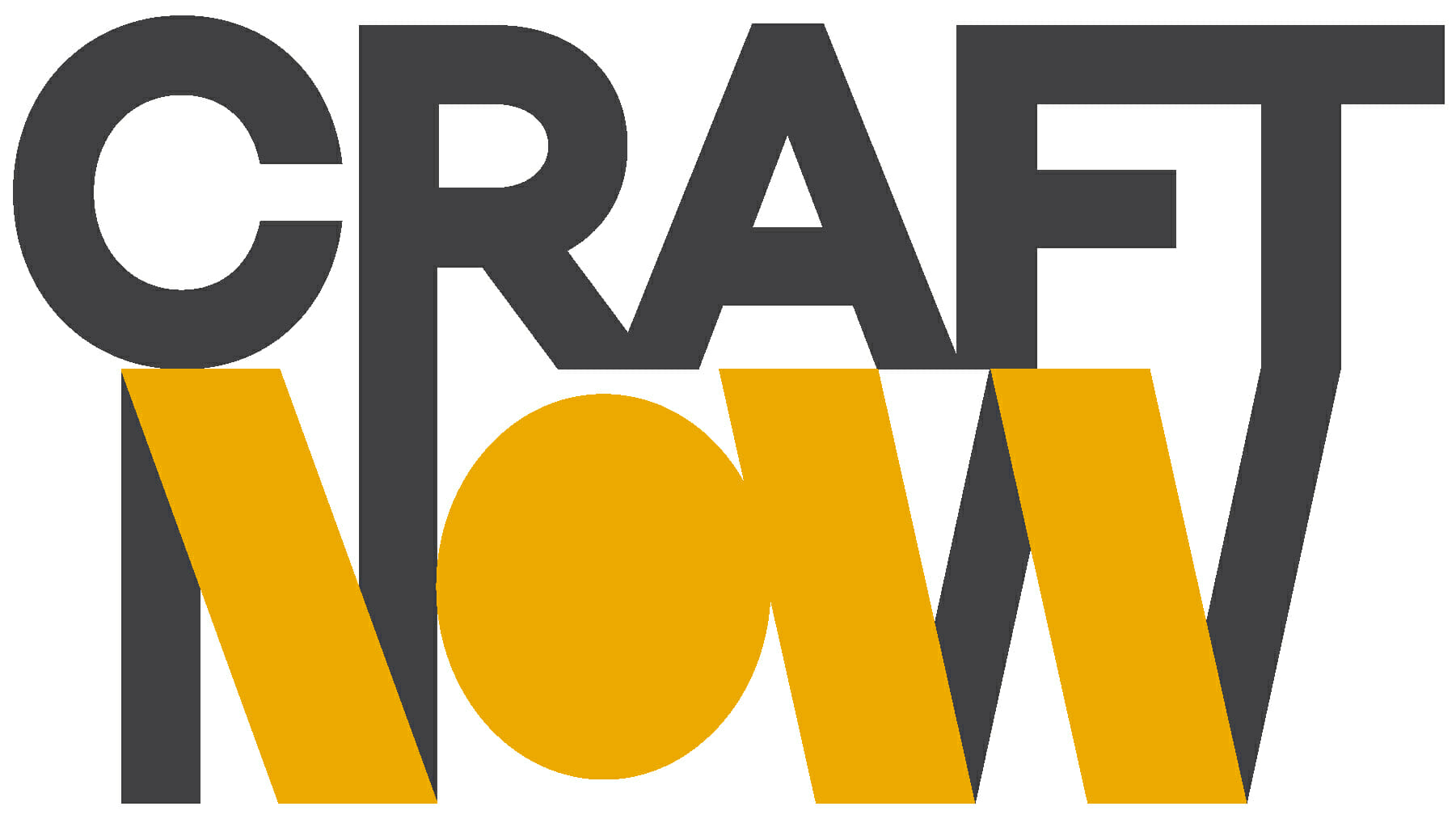 CraftNOW
Launched in 2014, CraftNOW Philadelphia unites the leading institutions and artists of Philadelphia's craft community in a celebration of the city's rich legacy of craft, its internationally-recognized contemporary craft scene, and its important role as an incubator for arts based in wood, clay, fiber, metal and glass. Through both creating and spotlighting events during the week of the Philadelphia Museum of Art Craft Show, CraftNOW invites locals and visitors alike to explore Philadelphia's innovations in the world of the handmade.
The Wharton Esherick Museum is a proud member of the consortium of individuals, galleries, museums, universities, retailers, and civic organizations who participate in CraftNOW each November. For details on CraftNOW events visit our event calendar.