2023 is all about storytelling here at the Wharton Esherick Museum, from our volunteer and staff Story Slam that kicked off the year to Telling Tales, our annual juried woodworking exhibition currently on view. The Studio is rich with stories in many forms: stories told by the building and the objects it holds, stories told by those who've found inspiration in Esherick's creative path, stories told by Esherick himself (both those true and those slightly askew), and stories told by those who knew him well. WEM's Oral History Collection includes many personal tales, often humorous and heartwarming, from Esherick's family and friends. Over and over, these stories illuminate the inseparable nature of Esherick's creations and his friendships – such as his close relationship with his wood supplier Ed Ray.
Esherick and Ed Ray first met when Ray was a local kid growing up on a nearby farm, but it wasn't until the early 1930s when Ray returned from learning the logging trade in the forests of the Northwest that he reconnected with Esherick. Upon returning, Ray founded the Valley Forge Log and Lumber Company, quickly gaining a reputation as an expert of fine woods. Before long, he was working regularly with Esherick, a relationship that became integral to Esherick's studio output. More than just a lumber supplier, Esherick would tell Ray what he needed, even provide him sketches, from which Ray would keep his eyes peeled for the unique slabs and twisting trunks that he needed for a particular project.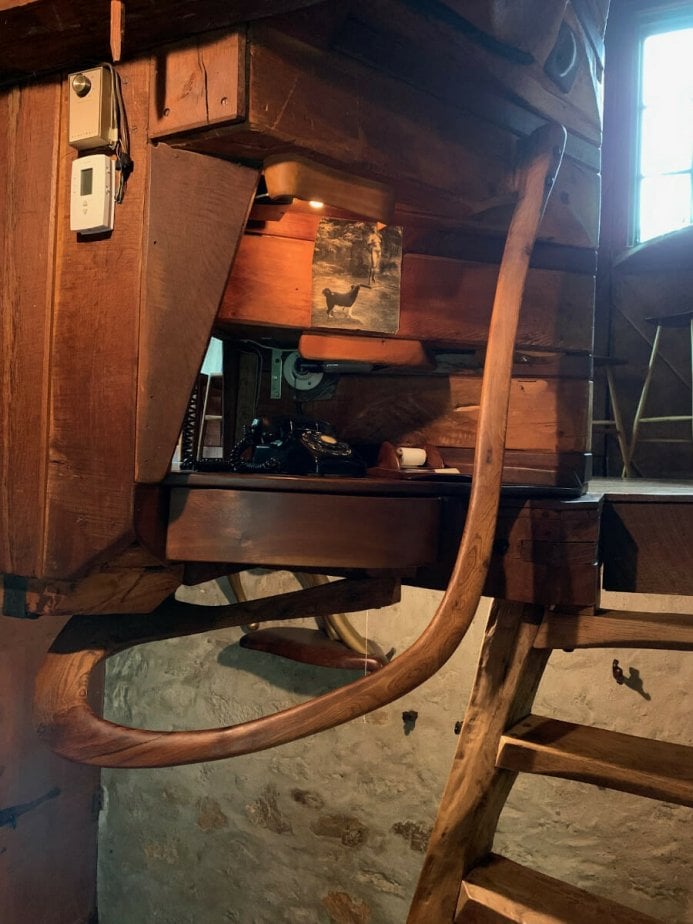 "Now the bannister for the stairway in the museum from the dining room down – it was about two years getting that piece of wood and then one day when we found it we couldn't haul it. There was no way we could load it… there was no way we could load the thing because it was so crooked. So Mr. Esherick got a dray rig that we could put it on and drag it along. And then he had a crane out here that he unloaded it with because it had so many different angles.

[Interviewer: Was it root or branches or both?] It was both. It was bent in all angles. And it was quite a big log and it was cut down that much. But he had to have that much, so that he could get that angle so that it followed the stairway down."

Ed Ray, WEM Oral History Collection
In the following audio clip, Ed Ray shares the stories behind two celebrated features of Esherick's Studio – the cabinet desk and the dining room floor. Through playful jokes and jabs, Ray's stories bring dimension to his relationship with Esherick and color these iconic creations with the stuff of good friends and good humor. Ray continued to be a friend to the Museum after Esherick passed away, remaining a member and gifting WEM some of the widest lumber in the woodshed, so children – and all who visit – could appreciate the massive scale of trees so rarely seen today.
The Wharton Esherick Museum has rich archives that include Esherick's personal and business papers, his correspondence with leading figures in American modernism and the studio craft movement, as well as an extensive oral history collection. The archives are open to researchers by appointment. For more information, please contact Research Director Holly Gore at [email protected]
Post written by Deputy Director of Operations and Public Engagement Katie Wynne
June 2023