Storytelling was an integral part of Esherick's humor and personality so, naturally, stories found their way into his furniture, sculpture, prints, and relationships. Beyond that, there are countless tales shared by the people in Esherick's life about their relationship and experiences with him. Throughout 2023, our programs, exhibitions, and events will showcase the important role storytelling played in Esherick's life – and the fuller picture these stories can offer about who Esherick was in the varied aspects of his life – as artist, father, friend, and more. In preparation to launch into this exciting new year, the staff here at WEM were honored to host and participate in a storytelling workshop!
In June 2022, we launched the WEM Storytelling Project with the aim of keeping alive the firsthand remembrances of Wharton Esherick and his network of patrons, collaborators, and friends. Geoffrey Berwind, Holly Gore, and WEM Executive Director Julie Siglin, began gathering a number of stories they knew about Esherick and others that they thought needed to be told.
Geoffrey Berwind is an esteemed storyteller and member of the WEM Board of Directors as well as the grandson of Nat and Rose Rubinson, who were close friends and important patrons of Wharton Esherick. Geoffrey, Julie, and WEM Director of Interpretation and Research, Holly, spent months delving into the Museum's oral history archive to flesh out stories that were supported by firsthand accounts. Geoffrey led the way in shaping this archival material into story scripts that were short, factual, engaging, and fun.
In January, as everyone anxiously awaited the Eagles playoff game later that afternoon, we welcomed our volunteer docents and staff to WEM's first-ever Story Slam to put the Storytelling Project into action. During the workshop, Holly and Geoffrey would introduce us to the story scripts as well as teach us storytelling skills and how to bring the stories to life for our visitors during tours.
The workshop began with an overview of storytelling as a craft. Geoffrey has coached thousands of authors, business owners and speakers and also provides workshops, speeches and training nationwide. He has coached numerous speakers to prepare them for their TEDx talks and was the first Artistic Storytelling Director for the award-winning Once Upon a Nation storytelling project in downtown Philadelphia. Needless to say, we were in good hands.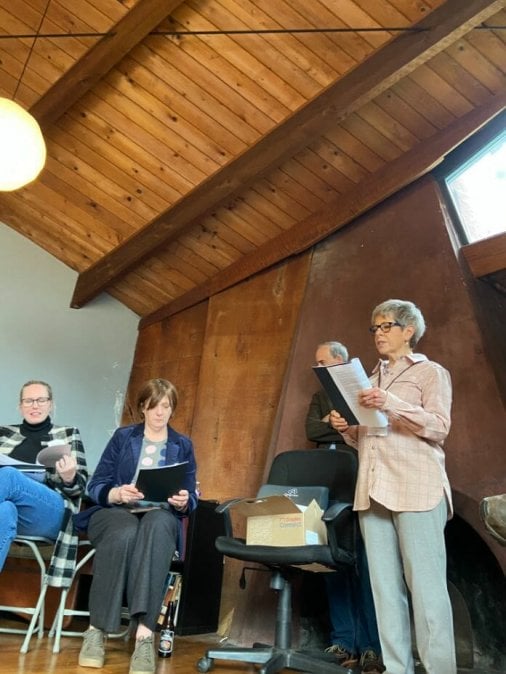 Geoffrey walked us through the "Keys to Unlock Great Storytelling." We then put those keys to use writing some tales of our own. Broken up into small groups, each team was presented with an object from the WEM archives. With no context or information about the objects, we were tasked with writing a story about them. Group members huddled together and frantically threw out ideas for characters, plot lines, peaks and valleys for a storyline about the object they had never seen before. Ten minutes later, a bell rang and we had to put the storytelling tools to practice as we took turns sharing our crafted narratives with everyone.
We heard tales of fictional grandchildren who loved board games but needed absurdly large dice to play, a former WEM director who jumped from behind a bush on a trail subsequently startling a lost hiker, and a brother and sister who had very different opinions about the circus. The stories were so different, creative, and funny! It was a thrill to see the new storytelling skills brought to life by our docents and colleagues so instantly.
Harnessing the excited energy, we reconvened as a whole to read through the carefully crafted Esherick stories that Geoffrey, Holly, and Julie had created from the archives. These short, sweet, and clever anecdotes give us a clear vision of Esherick as a person as well as his relationships with those around him. One recount of Esherick encouraging one of his patrons to use the excess salad dressing left after dinner to maintain the oil finish on a dining table he made for them got a big laugh. As we prepare to open our doors to the public again in March, the staff and docents are eager and armed with fun new Esherick stories to share with visitors!
Post written by Communication and Programs Specialist Larissa Huff
February 2023