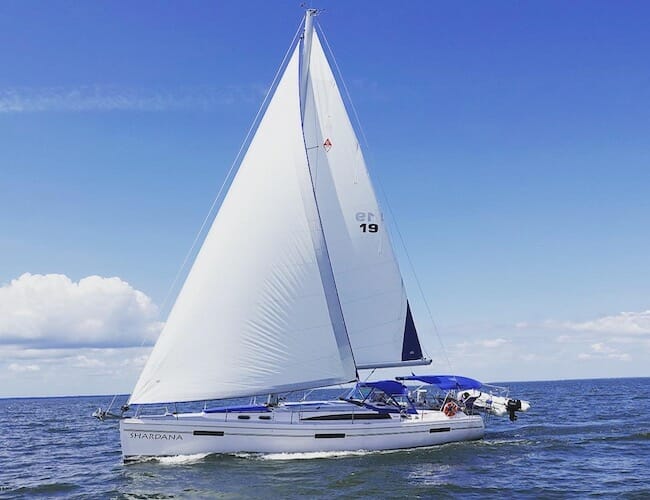 This month's blog post was written by Wharton Esherick Museum Executive Director, Julie Siglin.
I have always found sailboats to be beautiful objects and hoped that one day I would find myself aboard one, instead of squinting at them from the shoreline, so when a friend chartered one for 24 hours for a birthday celebration, I was an eager sailor!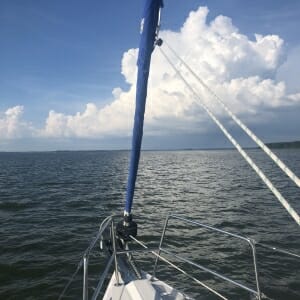 The sailboat that was my overnight home was built in 2017 – a 43-foot Catalina still giving off that new boat smell. She was a thing of beauty and impressive engineering, though, like most things these days, they just don't make them like they used to. Technological advances have replaced wooden hulls with one-piece fiberglass bodies, and the canvas sails have been replaced by tougher, longer-lasting nylon. The interior had shiny teak cabinetry, a surprisingly useable little kitchen, and many other comfort features including air conditioning. It was a hot, humid weekend and I kept thinking of Wharton and Letty on their honeymoon sail in 1913, aboard the Wiwurna III, (which most definitely did not have air conditioning!).
Despite all these advances in boat design, nature always rules the day and idle wind kept us motoring for much of the trip around the Chesapeake Bay. When the winds did pick up and the Captain cut the engine and unfurled the sails, leaving the boat to slice through boundless blue sky and ocean to just the sounds of wind and water, well, that was perfect. We anchored that evening in a still and quiet tributary river, enjoying dinner by an almost cartoonish sunset followed by a clear night sky crowded with bright stars. The experience was one that has stayed with me.

I arrived to work the following Monday morning and paused to regard Esherick's Studio from the driveway before starting down the path to the kitchen door and my day of administering the museum.
Though wholly unique in its entirety, Esherick's Studio brings forth many references, often left up to the individual viewer.  A sailboat, however, might not be the first. From the materials of stone, slate, concrete and, of course, wood, to the location  – built into a steep wooded hillside – the Studio does not bring to mind a graceful boat gliding across a glassy expanse of water. Yet, as you explore the interior, you find there is a direct relationship between Esherick's design approach and boat design.
In the Studio, there is a place for everything and everything is in its place. Storage is incorporated into every piece of furniture, with clever latches that are both fun and secure. Esherick approached space with a beautiful efficiency, with drawers incorporated under beds and sofas. Standing at the kitchen sink, in that compact but efficient space, one could look out the window as though from the bow of a ship, and just to your left are shelves with lips that curl up to prevent the glasses they hold from sliding off. Throughout the Studio, Esherick's lamps are attached to long wooden armatures that swing side-to-side, as a tiller would turn a boat's rudder. A pair of these lights in the main gallery even have color-coding in their design, with red rope detail on the left when you face the room, or port side, and green rope detail on the right, or starboard side, a clear reference to navigation out on the water.
Aside from the design references to boats, as I wandered about the Studio that morning, I thought about what else might have appealed to Esherick about sailing. Stepping aboard a boat is, both literally and figuratively, a departure from solid ground and all the problems, tasks and people that can find us there. At one point in our sail, a friend's phone began emitting its cheerful little tone and we were all appalled at the idea that work would follow us onto this perfect getaway. Being on the open water is also a visual and sensory delight. The riot of blue, the endless view, salt, swell, the sounds and motion of the water – it's an environment in which you can feel connected to something bigger, more transcendent than oneself. An environment in which our day-to-day concerns may be replaced with reflections more spiritual or philosophical, if only for a period of time. For an artist, the water might do even more. In his national bestseller Blue Mind, author and researcher Wallace J. Nichols, suggests that the flow of water informs creativity and it is therefore no surprise that artists seek it as a source of inspiration, even noting that many artists' colonies have sprung up near bodies of water.
That an artist's life experiences shape their art is indisputable, and so it clearly was with Esherick and sailing. The beautiful, thoughtful details of boat woodwork and design are evident, of course, as influences in some of the most captivating aspects of the Studio. But as this trip reminded me, the connection can be found more broadly in the joyous freedom found on the open water, operating hand-in-hand with nature, with wind, water, and wood in perfect harmony.