We often hear from those who use Esherick's life, works, and a visit to the studio as a source of inspiration in their own making. That spark is the foundation of our Creatives on Esherick series and past artist collaborations, and something we see as critical to the life of the Museum. We were delighted to embark on a new project last fall, thanks to generous funding from the Windgate Foundation. We invited ceramic artist Roberta Massuch to create new work in conversation with Esherick's Studio based on several "residency" days in the space, to be displayed in situ this spring.
Working primarily in clay, Massuch creates objects both functional and sculptural that take deep consideration of the spaces they occupy. Through the sensitive manipulation of her material and the properties of color, light, shadow, and surface, she creates work that exists both in response and in relation to its surroundings. 
We were excited to connect with Roberta this month and share a few insights from her ongoing creative process. 
Can you talk about when you first became aware of Esherick's work? Or made a first visit to the Museum?  
My first experience with Esherick's work was somewhat recent – about five years ago, at The Philadelphia Museum of Art, where I saw the installation of Fireplace and Doorway, from the library of the Curtis and Nellie Lee Bok House, Gulph Mills, Pennsylvania. I was intrigued by the work – but didn't explore it further at that time. Then, in late 2019, I was introduced to Julie Siglin, Executive Director of WEM at a CraftNOW fundraiser and shortly after made my first visit to the Museum. Julie gave us a private tour, and I was in awe of the space that Wharton Esherick created for his studio. Every aspect of the Studio was thoughtfully designed based on his needs, and I became interested to find out more about the artist and his Studio. So when Emily Zilber, Director of Curatorial Affairs and Strategic Partnerships, contacted me last fall to ask if I was interested in this project, it was easy to accept!
As part of this project, you have had access to the Studio and spent some dedicated time getting to know the space and the collection. How have you been spending that time?  
As of January 2021, I have been out to the Studio twice, once to meet with Emily to get introduced to the Museum and space and chat about the project. On my second visit, I brought along my sketchbook, camera, and a box of Color-AID paper and spent most of that day on-site observing and recording the space and the objects Esherick surrounded himself with.
What aspects of (or objects in) the Studio are you most drawn to?  
I am especially interested in the way daylight shifts and changes inside the Studio throughout the day; softly illuminating maquettes, sculptures, paintings, and furniture. My observations focus specifically on identifying places where the interior space and objects are dramatically affected by the natural light streaming in the windows, and how those places may be an opportunity for me to create an intervention in that spot. I have identified several places where the "light play" is really active, and a few others that are more subtle. I think one of the things I notice most when I am in the Studio is how calm and quiet it is compared to my usual surroundings in Philadelphia. 
I am also very interested in several of Esherick's maquettes for larger sculptural works and theatrical stage sets and props; Speed, the model for the Bok House Chimney Stair, and the model for the backstage spiral stair at Hedgerow Theatre. The stepped/stacked planar forms resonate with my own sculptural inquiries, so I am hoping to find a way to address this commonality.
In the past, your work has explored architectural forms and the qualities of light on surfaces. Can you talk more about your process and the concepts you explore in your work? Is the work for this project related – or going in a new direction?
The work I am developing for this project is directly related to my current and past studio inquiries, which manifest as three-dimensional sculptural still lifes; architectural ceramic forms paired with vibrant planes of color. The surfaces bounce off one another – reflected color and shadow highlight the relationship between the objects. 
That said, my past work has been created and planned with the intention of being exhibited in a gallery space, which has controlled and consistent light sources.  The project at the Wharton Esherick Museum is different because the objects I make will be viewed in the Studio, where the natural light streaming in the windows will constantly impact the objects I add to the space. This is why this project is so exciting to me! It is a dream for me to be able to sit and experience a space – and then make works that respond to the objects and environment that will be viewed 'in situ'.
We can't wait to share the work that comes out of this process! Keep an eye on our Programs and Exhibitions in the coming months for details about Roberta Massuch's project at the Studio.
Explore more work by Roberta Massuch here.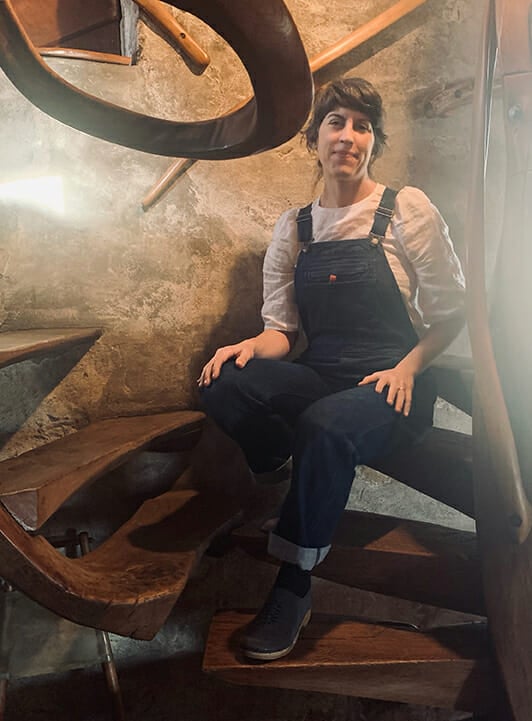 Roberta Massuch received her BFA in ceramics from Northern Illinois University (DeKalb) in 2005 and her MFA from Louisiana State University (Baton Rouge) in 2013. In addition to posts as an instructor at The Clay Studio (Philadelphia, PA), Tyler School of Art (Philadelphia, PA), and the Community College of Philadelphia (PA), she has received awards including the Jerome Ceramic Artist Project Grant in 2009, the Independence Foundation Visual Arts Fellowship in 2015 and further recognition through publications such as Clay Times, Ceramics Monthly, Musing About Mud, and various exhibition catalogs through The Clay Studio.
Massuch's work has been exhibited at universities, institutions, galleries and museums across the western United States including Northern Clay Center (Minneapolis, MN), Appalachian Center for Craft (Smithville, TN), Worcester Center for Craft (MA), The Clay Studio, Philadelphia Museum of Art (PA), Goggleworks Center for the Arts (Reading, PA), and the Visual Arts Center of Richmond (VA).
January 2021