Mansfield "Bob" Bascom, 1923 – 2020
Mansfield Bascom, Co-Founder of the Wharton Esherick Museum passed away peacefully on Monday, October 26 at the age of 96.
Mansfield, known to so many simply as Bob, was an unwavering pillar of dedication to the Esherick Museum and the preservation of Wharton Esherick's legacy for nearly fifty years. Alongside his wife, Ruth Esherick Bascom, he helped found his father-in-law's home and studio as a museum in 1972. He served as Director of the Museum, with Ruth serving as President, until 1990, and served as Curator until 2007. Since first stepping foot in the Studio, Bob gave every ounce of his ingenuity and conviction to see the Museum succeed and promote the singular influence and brilliance of Esherick's creations, and for that we will be forever grateful.
Help us celebrate Bob's life and legacy by sharing your stories and memories using the form at the bottom of this page.
"Though I overlapped only five of the almost fifty years that Bob dedicated to preserving his father-in-law's legacy, that time was invaluable. I learned so much from him about Wharton, about caring for the buildings and artwork he created, and about the kinship they shared. Bob was fiercely protective of the museum and never stopped thinking about its future. He didn't bother with plans for the coming year, he planned for the next 100 years. Even our last conversation in his final days started with his thoughts on a museum facilities project. It is a privilege every day to lead the museum he founded and I will always be grateful to him for that, and for his friendship."
Bob Bascom sharing the Studio gallery, 1960s.
A gathering of Directors at the 2019 Annual Members' Party. Bob is joined by his successors, WEM Executive Director Julie Siglin (center) and Former Executive Directors Paul Eisenhauer (left) and Rob Leonard (right).
"When I began as Director of the Museum in January, 1990, Bob Bascom had been the volunteer Director since 1972. This was his "child"; he had nurtured it from the beginning and was very protective of it. Those who know Bob, realize that he has a tendency to micro-manage. He knew himself well enough to understand this. He once told me how one spells "Architect." His version: C-O-N-T-R-O-L. He explained that architects need to control entire environments. Over twenty years we came to a workable relationship; indeed, I believe one of mutual respect.

Bob had a close personal relationship with Esherick and I learned much about the personality of the man from Bob. These insights led me to a deeper understanding and appreciation of Esherick.

One such conversation clarified Bob's dedication to and fervor for Wharton Esherick, the Studio and Esherick's legacy. Bob related that "one day at lunch in the Studio dining room, Wharton said, 'Bob, I don't want you to take this the wrong way, but, I love you.' Bob responded, 'I love you too'."

I now understood Bob more fully. The Museum was a labor of love for Bob – in the truest and deepest sense. I respect and appreciate Bob…and I love Bob."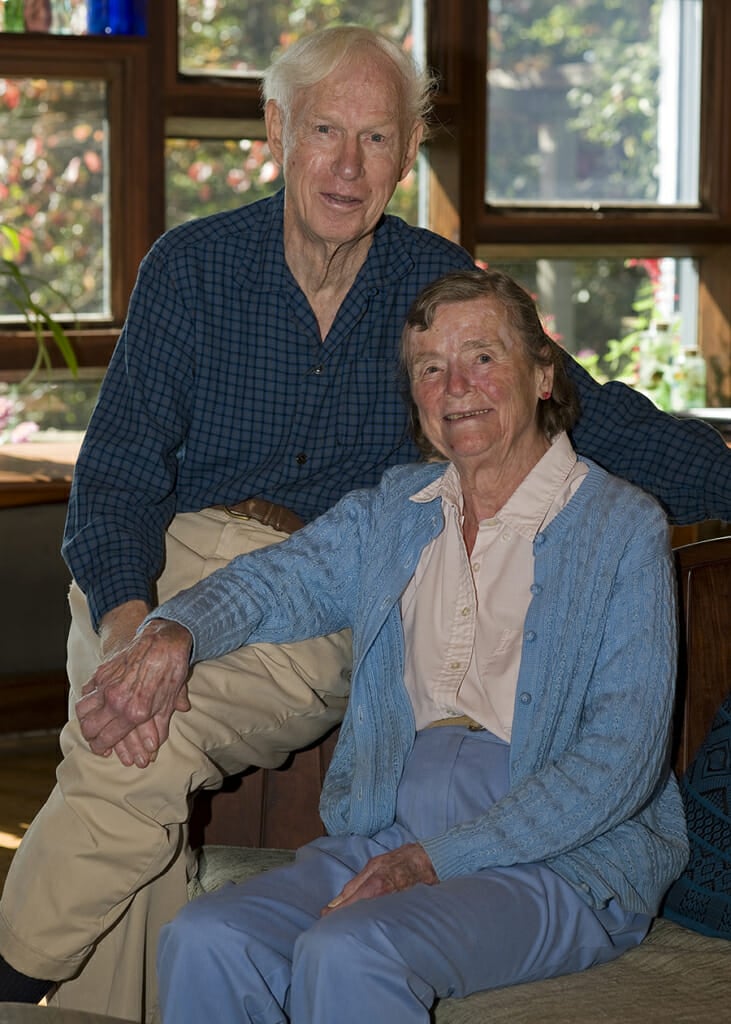 Bob and Ruth at home in the 1956 Workshop.
"Bob's reputation preceded him. Though I didn't meet him until I was with the Museum for a little over a year, I had heard of his stories and his larger-than-life presence since Day 1. After hearing about the man who co-founded such an extraordinary Museum, fought at the Battle of the Bulge, and even met Marilyn Monroe, I didn't know what to expect. What I found was a fascinating and passionate person with a sense of humor that never failed. While I'm saddened by the loss, I'm so grateful for his lifetime of dedication to the Museum, and inspired to do all that I can to carry on his legacy in the future. "
"It truly is the end of an era. Bob and Ruth had the foresight and stamina to expose so many people to Esherick and his importance to art and craft beyond his own lifetime by turning his home into a museum. I am indebted to them for doing what they did. My work as a woodworker and Esherick researcher was greatly impacted by what was provided to me through exposure to Wharton Esherick's work at the Wharton Esherick Museum."
"One day when I was conducting a tour, I heard Bob enter the kitchen above us. He proceeded to sit on the top step and listen. When the group was ready to climb the stairs to the bedroom, I said to Bob: "Did I get those tales right, Bob?" He thought for a moment, and then said: "Well . . ., Pretty much of it". Everyone on the tour laughed, but it left me pondering, and I still am.

Wonderful, gentle man."
Celebrating the ten-year anniversary of the Museum: (L to R) Miriam Phillips, Brooklyn Museum Curator Marvin Schwartz, Bob Bascom, and Ruth Esherick Bascom. 
"I cannot improve on what has been said by others, so I will just share a Bob story. I took the photo of Bob that was used as the author photo for the biography (the one in the yellow sweater). Bob stood against the solarium wall and asked me to take his picture. In shot after shot, he looked like, as Ruth said, "a grumpy old man." I told him to smile. He replied, "I am smiling." Finally, I put Ruth in front of Bob and asked him how he felt when he looked at her. That photo is the result."
"So strange that today is how I found out that Bob died. I called the Museum because an Esherick is being auctioned tomorrow. And seeing that the Museum is closed I went to the web site and saw Bob was gone.

A flood of memories of Lettie, Mary, Ruth, and Miriam. My time at the house interviewing Ferd Nofer an actor of the famed Hedgerow Repertory, my time with Ruth and Bob, and visiting  Mary and her husband in Miami. All the stories Rose Schulman told about Lettie living at Hedgerow House, and many times being with Miriam Phillips the premiere actress since 1924 at Hedgerow. Wharton's Entire Family was at Hedgerow with he doing not only the stairway, furniture, woodcuts, and sets but  also sketches of rehearsals many of which were stolen from the locked closet I left them in at Hedgerow House.

Bob contributed to the Family's and Miriam Phillips's contributions continuing Wharton's Legacy.. He did not just marry Ruth but a Mission, and a World of the ingenious Wharton Esherick who use to kiss the bark of a tree! I salute Bob – I salute all who continue to make the Museum a Reality. I only talked to Bob several times as my time was spent there with Mariam and Ruth but I always enjoyed talking to Bob and called him when Ruth died.

Now truly the End Of An Era. Today is December 18, 2020 and I am greatly saddened."
Bob, Ruth, and Geoffrey Berwind with Esherick's celebrated "Music Stand."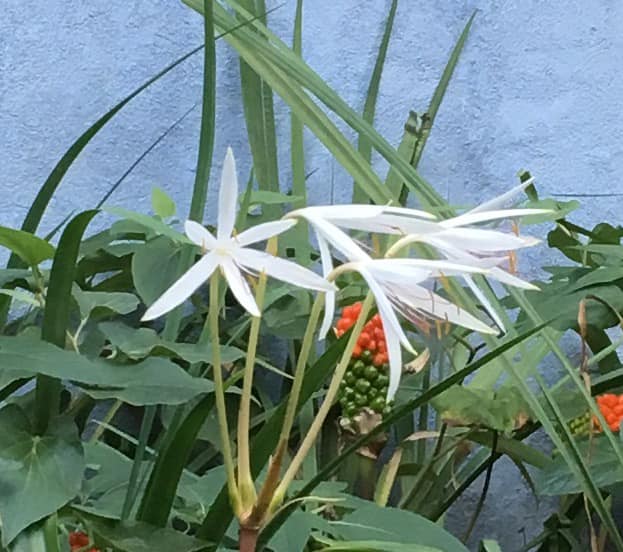 Swamp lilies from Bob's garden; photo by Tara Fisher.
"Bob was a terrific, dedicated gardener. He subscribed to serious gardening journals, which he sometimes shared with me. When I admired his garden, he started giving me pieces of it. This time of year, I see Bob all around me in my yard–the beautiful yellow primrose, the early lavender/blue phlox, and blooming hellebores, which grew from two tiny seedlings he invited me to dig beside his garage. After I left the Board, I sometimes brought lunch to share on his patio, and I am missing these visits, but I still have the offsprings from his garden to bring him close."