In 1994, the annual juried woodworking exhibition began as an opportunity to encourage new, creative and imaginative designs in wood. Encouraged to think like Esherick and invent designs both expressive and functional, professional woodworkers, artists, hobbyists and craftspeople have submitted hundreds of pieces reflecting each year's theme. From wooden jewelry to wall cabinets, chairs to desk accessories and everything in between, the next generation of artistry in wood has passed through the doors of the Wharton Esherick Museum.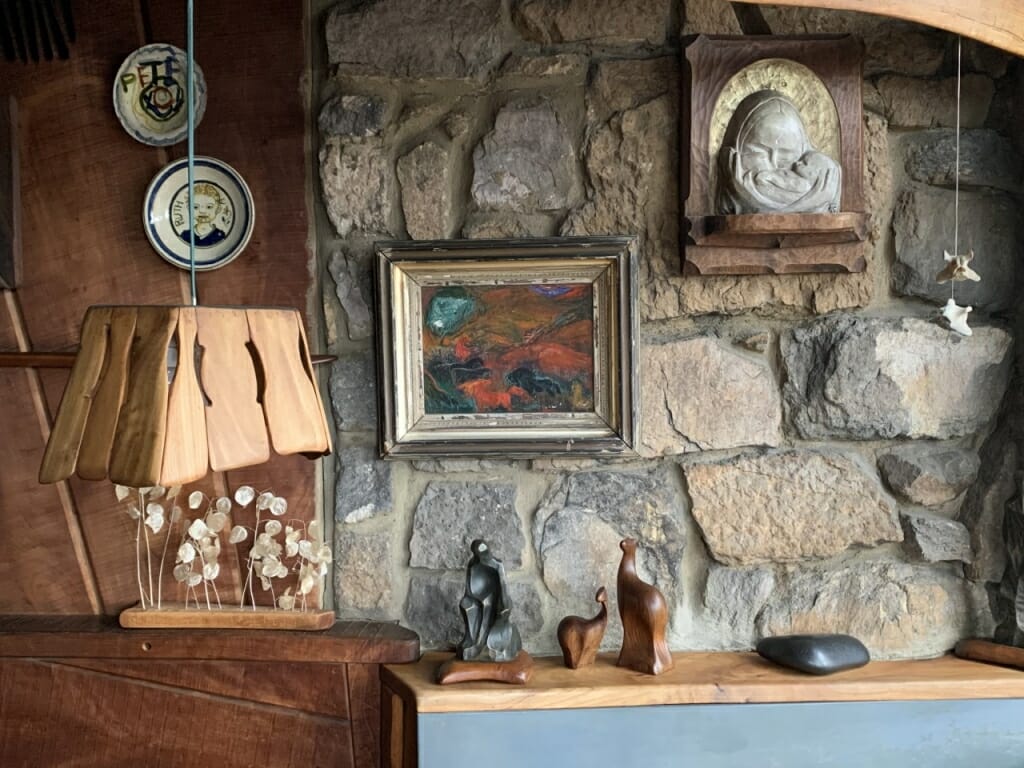 2020 Theme: Wood and…
Note: The application period is now closed and we are no longer accepting submissions.
NEW DEADLINE: January 4, 2021 
Due to the current uncertainty around public programs, we have pushed back the dates of this exhibition and extended the entry deadline, giving artists the opportunity to keep creating, and time, we hope, for us to more safely gather and celebrate the works while on view.
Please note – if you have already sent your submission but would like to make changes, you can do so anytime before the new deadline.
THE CHALLENGE
Although the name Wharton Esherick is nearly synonymous with wood, across his career Esherick used a wide array of materials, like metal and paint, with both innovation and sensitivity. Esherick's first forays into wood took place while he was primarily a painter. Creating patterned frames that complemented his paintings, Esherick began to understand how two carefully chosen materials working together create artwork with resonance beyond the sum of its parts. His painting Mary (1922) frames an expressionistic rendering of his daughter with wood carved to mirror Esherick's own brushstrokes.
An interest in how wood combines with other materials can be seen throughout Esherick's career. The tightly latticed leather strapping on the Hessian Hills Chair (1924) is intimately woven around an elegant, attenuated wooden frame, while the thick canvas belting on the Hammer Handle Chair (1938) proves a perfect counterpoint for Esherick's transformation of readymade tools into functional furniture for the Hedgerow Theatre. Wood in conversation with aluminum, stone, fiber, and paper can all be found in Esherick's diverse repertoire, and even the very architecture of Esherick's home and studio is a brilliant marriage between wood and other materials.
For the 27th year of the Wharton Esherick Museum's annual juried woodworking exhibition, we invite you to share innovative works of art, craft, and design that showcase wood and at least one other medium. Whether functional or sculptural, each submission should reflect the way Esherick worked across a vast spectrum of materials and practices as well as his outside the box thinking.
We want to know how you might complete the phrase "wood and…"
Wood and glass? Wood and plastic? Wood and silver? The possibilities are endless!
SELECTION
Jurors Miguel Gómez-Ibáñez and Samantha De Tillio, along with Emily Zilber, the Wharton Esherick Museum's Director of Curatorial Affairs and Strategic Partnerships, will select the finalists for the exhibition from the images submitted using a blind jury process. It is strongly recommended that you submit high-quality images to ensure the jury sees your piece at its best.
The competition is open to both emerging and established makers. Entered works should creatively pair wood with at least one other material and be available for the duration of the exhibition. Jurors will evaluate the submissions based on inventive approaches to the prompt, craftsmanship and technical proficiency, aesthetics, and other considerations as determined by the jury.
Miguel Gómez-Ibáñez served as president of the North Bennet Street School (NBSS), a renowned school of craftsmanship in Boston, from 2006-2019. He currently serves as President Emeritus. Miguel is the first NBSS graduate (cabinet and furniture making, 1999) to lead the institution. Miguel holds a master's degree in architecture from the University of Pennsylvania and an undergraduate degree from Wesleyan University. Before enrolling at NBSS, he worked as an architect for 26 years. His furniture has been featured in House and Garden, American Craft, and other magazines, galleries, and museums across the country.
Samantha De Tillio is a curator and writer specializing in modern and contemporary craft. She is Curator of Collections at the Museum of Arts and Design, where her upcoming exhibition Beth Lipman: Collective Elegy (May 14, 2020 to March 28, 2021) is the artist's first mid-career survey. She is also a Contributing Editor for GLASS: The UrbanGlass Art Quarterly and her ongoing personal research includes the first in-depth study of the life and fiber sculpture of Dorian Zachai (1932-2015). De Tillio has an MA in the History of Decorative Arts from the Smithsonian Associates with George Mason University, and a BA in History from the University of Albany. She has worked at the Metropolitan Museum of Art, the Smithsonian National Museum of Natural History, the Smithsonian National Museum of American History, the Thomas Cole National Historic Site, and the Albany Institute of History and Art in various curatorial and research capacities.
THE EXHIBITION
The selected works will be exhibited in the Museum's 150 square foot visitor center gallery from May – September 2021 (exact dates TBD). The pieces may be offered for sale with a 30% commission for the Wharton Esherick Museum; prices are set by the artist. Cash prizes of $500, $300, and $200 for 1st, 2nd and 3rd place will be awarded, as well as a $100 Horace Hartshaw award for middle and high school students, and a $200 Member's Choice award, voted on at the opening reception.
Pieces selected for the exhibition will be displayed in a secure area and are insured by the Museum from the time of their arrival to the time of their delivery to the artist or purchaser. 
ENTRY PROCESS
Entrants should submit a completed entry form online. Please submit no more than 3 images for each entered piece; we recommend two overall images and one detail. Photographs should be JPEG or TIFF files sized at a minimum of 4 x 6 inches at 300 dpi (1200 pixels on the longest side), submitted online. The jury will select finalists via your submitted images, so we suggest sharing images that are as high quality and well-composed as possible.
There is a $30 entry fee ($20 for Museum members; a special $30 membership to the museum is available for artists). The fee is non-refundable and covers the entry of up to three pieces. Additional entry fees apply for more than three pieces.
The entry fee for middle and high school students is $15 and applies to current students only. Please indicate on the entry form if you are a current high school or middle school student to be considered for the Horace Hartshaw award. Hartshaw worked alongside Wharton Esherick in the 1950s and 1960s. This award was created to honor his memory and encourage woodworking in younger generations.
DEADLINE
The deadline for entry is January 4, 2021, by midnight. All entrants will be notified by February 1, 2021, of the jury's decision.
SALES
Please note on your entry form if your piece(s) are for sale. If they are not for sale, please include a value for insurance and your piece will be marked "Not for Sale" during the exhibition. The Museum retains a 30% commission of your retail price if sold.
SELECTED PIECES
If your piece is selected for the exhibition, you are responsible for shipping your work to the Museum. The Museum will pay the cost of shipping unsold pieces back to you after the exhibition closes. You are welcome to drop off your piece before the exhibition but if you are unable to pick up your piece after the show, you will be responsible for the cost of shipping.
Questions regarding the annual juried show? Please contact Emily Zilber at [email protected]